Overview:
An energetic one day themed dance party!
Each Pop up Dance Party will be scheduled through the summer and differ in price based on number of hours.
Pop Ups are to be paid in FULL upon registration.
Any cancellations should be made no later than 2 weeks prior to the class. Refunds are not permitted but dancers will be given credits on their accounts if canceled before 2 weeks of the event.
A minimum of 5 dancers is needed to hold a Pop Up Party. CDW reserves the right to cancel any classes due to low enrollment.
Private Pop Up Dance Parties are available! To book yours, Contact us!
ALL classes are INDEPENDENT. No parent participation or Observation.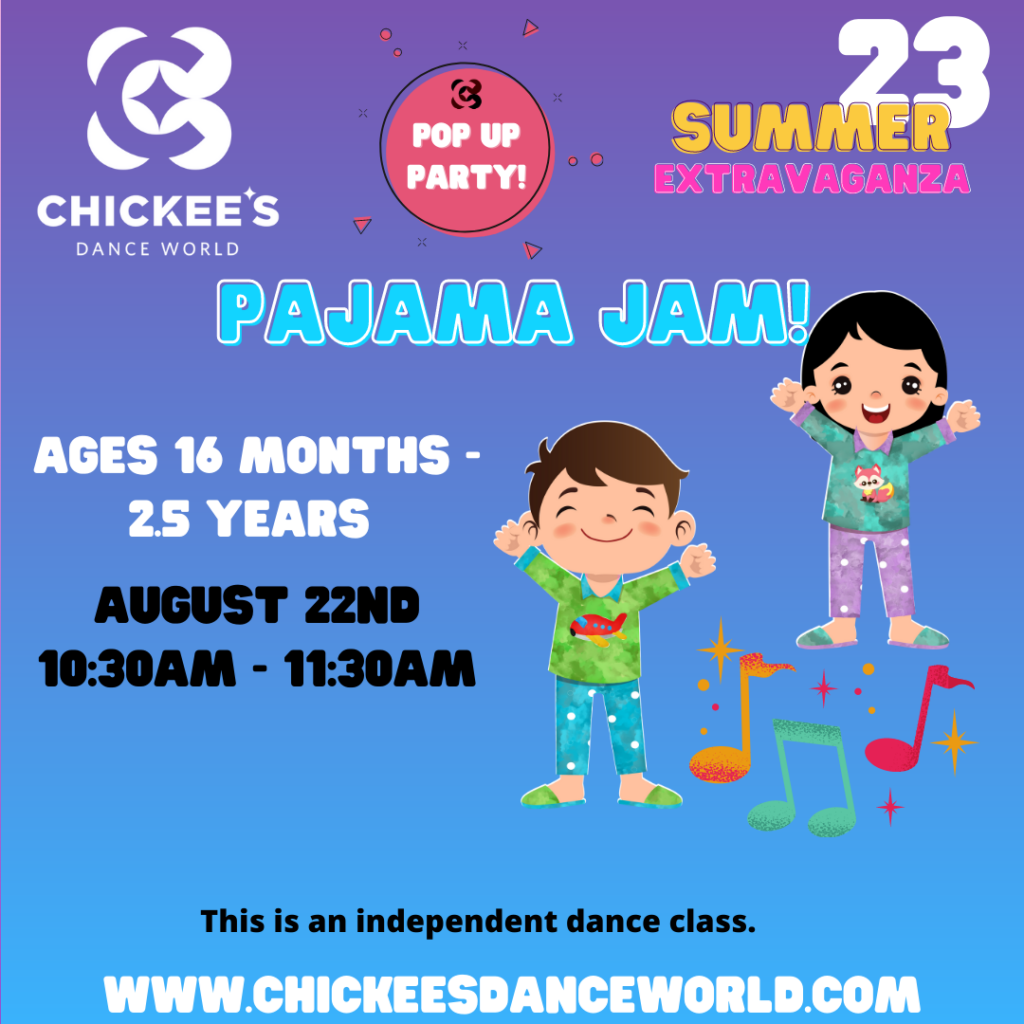 Schedule:
Pop Starz & Rockerz:

Ages 4 – 10
Date: June 21st
5PM – 7PM
$40.00

A Pirate's Life for Me:

Ages 2 – 3.9 Years
Dates: June 27th
10:00AM – 12:00PM
$40.00 per dancer

Baby Shark Bonanza:

Ages 16 Months – 2.5 Years
Date: June 29th
10:30AM – 11:30AM
$25.00 per dancer

Sesame Street Friends:

Ages 16 months – 2.5 Years
Date: July 18th
10:30AM – 11:30AM
$25.00 per dancer

Carnival Crazies:

Ages: 2 – 3.9

Date:

July 19th
10:00AM – 12:00PM
$40.00 per dancer

Ninja Warrior:

Ages 4 – 10 Years
Date: July 24th
9:30AM – 12PM
$45.00

Paw Patrol "Paw"ty:

Ages 2 – 3.9
Date: August 1st
10AM – 12PM
$40.00 per dancer

Dino Mite Dancin':

Ages 16 Months – 2.5 Years
Date: August 2nd
10:30AM – 11:30AM
$25.00 per dancer

Pajama Jam:

Ages 16 Months – 2.5 Years
Date: August 22nd
10:30AM – 11:30AM
$25.00 per dancer

Gabby's Doll House Dance Off!

Ages 2 – 3.9 Years
Date: August 23rd
10AM – 12PM
$40.00 per dancer

PJ Dance Party:

Ages 4 – 10
Date: August 23rd
5PM – 7PM